Handmade greeting and healing cards made and written by the holy hands of Kriyaji. 
Every card emanates a healing blessing with positive message vibration in the Sacred Language of the Divine, the Holy Language of Kriyaji. Cards are made with various materials and each card its truly unique, none are the same apart from the graphic art cards and the prints of the watercolour cards.
All cards come with envelope and are sealed in cellophane bags. They are all hand written at the back of the card. Blank card inside for your own personal message. Prices vary according to the amount of work needed to create them and to the material used. Please note that all of these cards are also small painting that can be framed and that are of great value.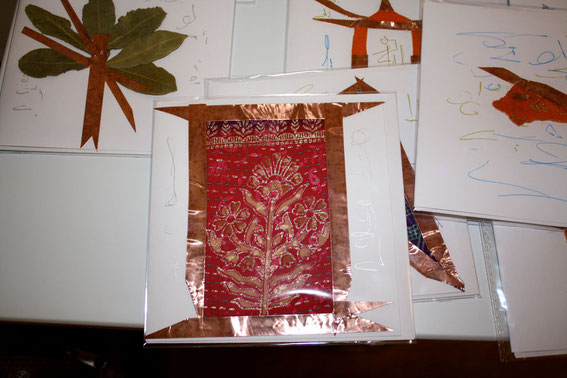 ORANGE AND COPPER CARDS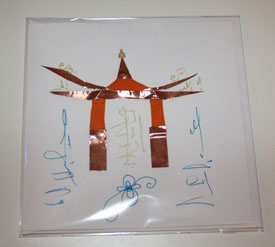 Cards are made with copper and orange with or without blessing.
This is a unique technique used by Kriyaji for healing.
Please find an example card above.
WIRE AND COPPER GLYPH CARDS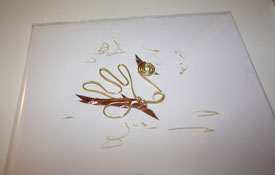 Wire copper selfic art created by Kriyaji.
Cards can be requested with or without a blessing message. 
Please find an example card above.
MEDICINE CARDS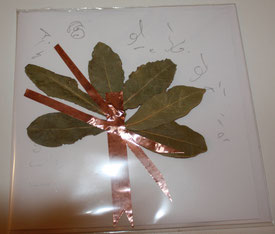 A series of Medicine healing cards. Some of the Medicine Cards are created with bay leaves - a protective herb used by ancient yogis and healers. Others with a variety of selected healing herbs, all of which are chosen for the well being of each individual. 
Medicine Cards can be created by request. Please find an example card above.
OLEOS CARDS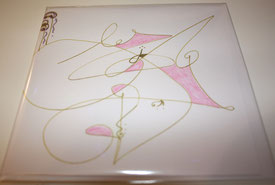 Oleos Cards are made using an ancient technique by Kriyaji for the purpose of healing. They are all full of loving, sweet and embracing healing messages. 'It is the art of the Artista of the modern world.'
Please find an example card above.
TEMPLE BLESSING CARDS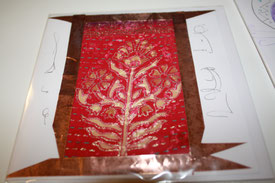 Temple Blessing Cards - some are created with materials used in the Temple of Nithya Nilayam, others are created with herbs and by the use of Holy Prayers.
Please find an example card above.
DIVINE MANTRA CARDS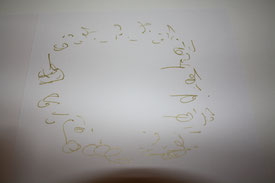 Divine Mantras written by Kriyaji in Her Divine Sacred Language of Light.
Please find an example card above.