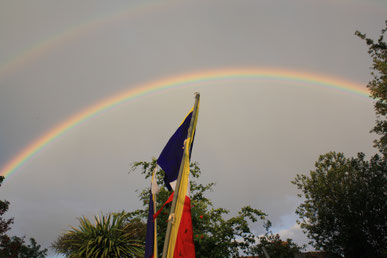 Fire Puja and prayers from 4pm-9pm.
Please contact the Office for more information.
"It (sound) is a multidimensional language, which moves through the dimensions as living intelligence capable of transforming and bringing about life by consuming disharmony and the aesthetic of darkness by freeing up light particles."
~ Kriyaji
"Peace is such a precious gift, a gift that comes from the centre of the illuminated heart and mind obtained by the soul that loves, that prays and that knows how to give and forgive. Forgiveness is the ideal virtue that reduces stress and fights between people, between countries. When we forgive we open up to a new dimension – the dimension of love. In this Kali Yuga suffering and sickness are now rising together with worldly disasters causing lack of peace in peoples' hearts, minds and souls. Therefore the world suffers and forgets how to love.
The lower emotions in people are the cause of the development of certain actions and events in the world, causing negative karmic actions. Possessiveness, lack of forgiveness, lack of generosity are all lower emotions that contribute towards  the world becoming more domineering and therefore engrossed in the worldly paranoid illusion. Therefore the lack of spiritual and emotional education leads to misbehaviour in the world.
All of these lower emotions are the cause of individual stress and worldly stress. Sometimes we feel stressed and we don't know why, but stress is and can be manifested by people's negative thinking and emotions, also known as the production of karma.
With sound healing this intense worldly stress is lifted and negative energy is purified. It assists in reducing the lower emotions which are likely to cause fights amongst people bringing everyone into a state of harmony, love, peace and balance."
~ Kriyaji
TESTIMONIALS:
"A unique and powerful experience receiving sound healing through Kriyaji's Divine voice and Her delicate use of instruments works profoundly on relieving stress and negativity accumulated in daily life." [A devoted student of Kriyaji's]
"Having spent many hours listening to Kriyaji's sound healing CD over recent months and the amazing effect it had on me, to then experience sound healing live again last week was a reminder of how the live experience is so much more, so profoundly transformative being in the presence of Her voice." [A disciple of Kriyaji]
COST: £35 (concession available)

Please contact the Office for more information and/or to book your place.
Please wear white or light coloured comfortable clothing.

Please email the office to book your place for a class or workshop.
If you have any questions please just send the Office an email.
Please book at least 24 hours in advance
Please email the office to book a distant healing for yourself or for your friends and family. For more information please click on "Healing Clinic, Consultations & Workshops" in the left-hand menu, and then on the "Sound Healing / Distant Healing" page.
For more information please contact the Office.