Vedic prayer ceremonies including Abhishek and Fire Puja are performed by Kriyaji to the Gods at Nithya Nilayam. In India people flock to the temples of their devotion to participate in Abhisheks and Fire Pujas. At a fire puja, Vedic Mantras in Sanskrit are recited - powerful prayers bringing peace, prosperity, protection and purification to name but a few of the blessings bestowed on those in attendance or to those to whom the offerings and prayers are sent. Attending these pujas brings uncountable blessings and benefits and Kriyaji welcomes all to attend.

Sri Chakra and Sri Yantra flower and abhisheka puja are performed regularly at Nithya Nilayam. This puja is considered very auspicious. This is considered one of the most powerful puja to increase prosperity, work and help. Many flower petals are offered to the Sri Yantra idol to purify, cleanse, adore the deities of the yantras. Water, rose water, vibhutti, sadal paste, kumkum, flowers are offered during the puja. Vedic prayers are recited during this puja.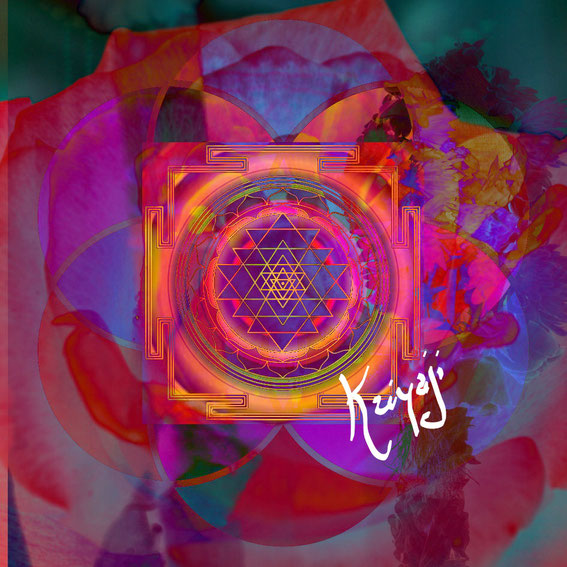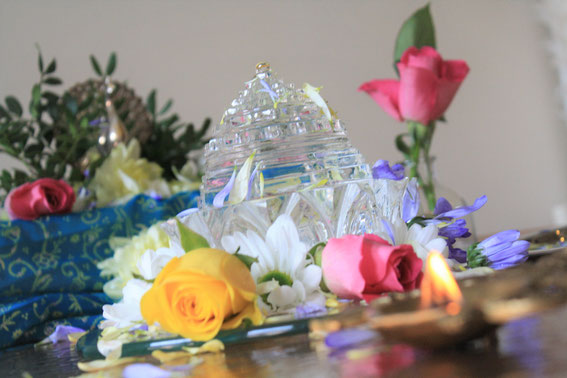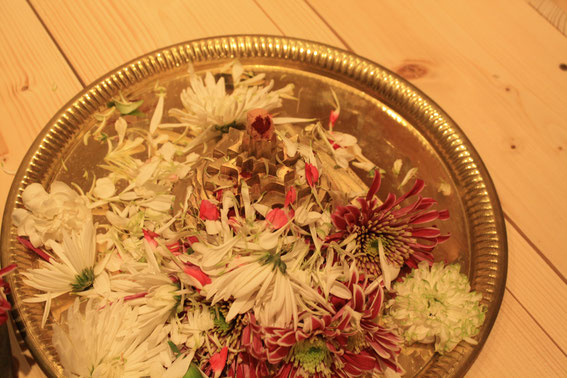 The small Golden Eye Kriyaji Lingam manifested at Nithya Nilayam under Kriyaji's meditation seat in 2018. Much of this celebration is also to value and adore such creation/manifestation of God in a different form. It is a huge miracle from God!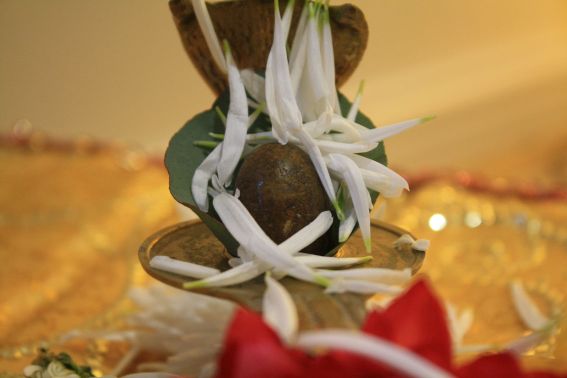 The Golden Eye Lingam manifested under Kriyaji's seat at Nithya Nilayam in 2018. The Lingam has a golden open eye - this signifies the Single Golden Eye of God watching the movement and the scenario of this world. A symbol of the Great Divine.
Pujas

If you would like to receive blessings from the below pujas being performed at Nithya Nilayam

please write to the Office with your name(s) and puja requests.
Ganesh & Vishnu 
Surya, Jesus, Nandi, Balaji, Murugan, Kartikeya,
Mayura, Skanda Kumara, Shanmuga & Sri Yantra
FIRE PUJAS FOR SUDARSHANA, HRUDAYA & SRI YANTRA ABHISHEK
SACRED NAMES OF GOD FIRE PUJA
If you wish to contribute with a donation towards the Abhisheka rose water, bhakti flower pujas and fire pujas wood. please donate here.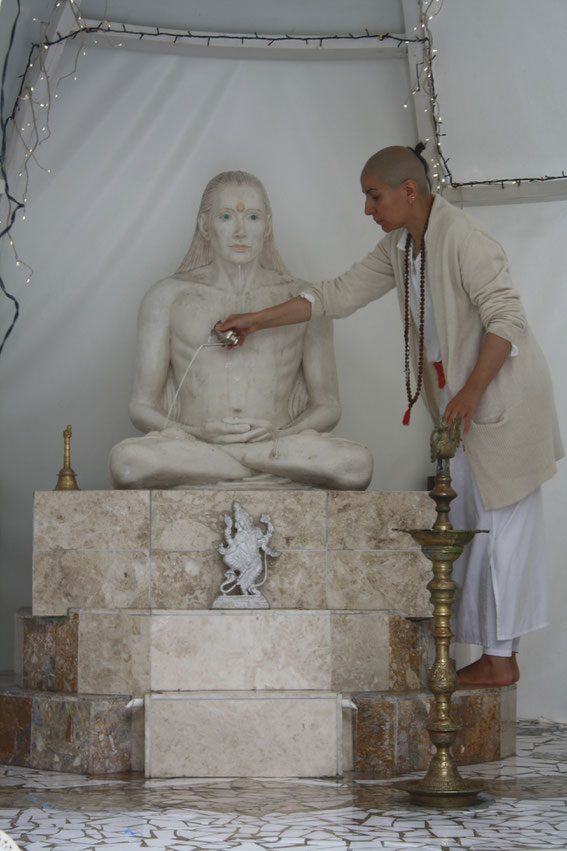 ''If ever I have the chance to attend one of these ceremonies during my Karma Yoga days at Nithya Nilayam, whether it be a daily Aarti (offering of light) given by Kriyaji to the Gods or Vedic Fire ceremony with the visiting priests including Abhishek and other rituals to one or many of the resident Gods at Nithya Nilayam, I am always blessed to be part of it. All my worries melt away, tiredness dissipates and I feel refreshed and vibrantly alive with the rituals I witness here. I may not see the presence of the Deity in any other form than the beauty of the Murti in front of me, but I can feel the Spirit that lifts and lightens me, changes me for the better and moves me to a greater connection with this world and other worlds effortlessly on the wings of the chants, prayers and presence of Kriyaji and the visiting Priests. A pleasure and joy that I hope many will bear witness to now and in the future. Om Namah Shivaya.''
~ student & devotee

You can receive healing and removal of obstacles and negativities with a distant fire puja. Please write to us with your request. Please note fire pujas are very involved, many offerings like flowers, wood, camphor and spices are offered to the Gods into the holy fire to fulfil your request. Many mantras and much preparation is performed. 
Average duration of a Vedic fire puja is around 1 hours, plus 1.5 hours in preparation of offerings and dhuni cleansing for the puja.
For a private individual fire puja the fee is £140. To be part of a group fire puja the fee is £40.
PUJAS DONATIONS: 
Donations for the Full Moon Hrudaya Process fire puja will go towards the flower yantra puja and fire offerings (ghee, flowers, milk, rose water, seeds, nuts, herbs and wood).