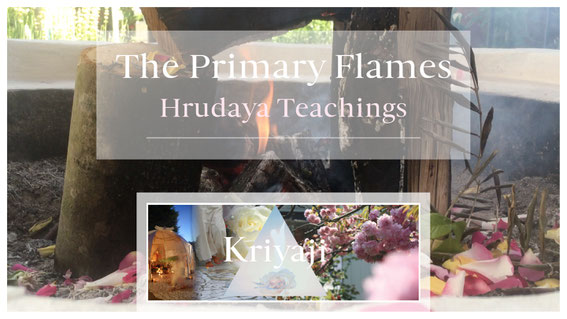 The Primary Flames - Hrudaya Teachings (Sacred Heart of God Teachings) -
Teachings of the Heart Divine
An audio recording of live Hrudaya Teaching at Nithya Nilayam. Kriyaji gives a concise and spontaneous outline of The Primary Flames, serving as an introduction to the Hrudaya Teachings. 
The Hrudaya Teachings incorporates profound spiritual sadhana, observation, yogic practices, mantra, meditation, drawing of yantras and advanced theory on karma, karma yoga and the overall understanding of Yoga and God.
The Hrudaya process puts into order all aspects of human behaviour. Light is shone over the understanding of true spirituality, as well as the purification of emotion and all elements of the human condition, and its expression in our day-to-day behaviour.
The process is nothing less than a total breakthrough of Divine consciousness into daily life.
Duration: c.29 minutes
This video is available to download - please buy below and the Office will email you a download link via wetransfer.
£40


From the Great Teachings of the Divine Heart, the Hrudaya Teaching manifests in this world through the heart emanation of a Divine Being, Kriyaji, who is the continuation of the embodiment of the Great Teachings. Kriyaji is the living manifestation of the essence of the True Teaching originally given by Lord Jesus and the Omnipotent.
Duration: c.19 minutes
Please watch the video here, or on YouTube.
£ FREE